Built for speed
Autogas, autocancel, autowin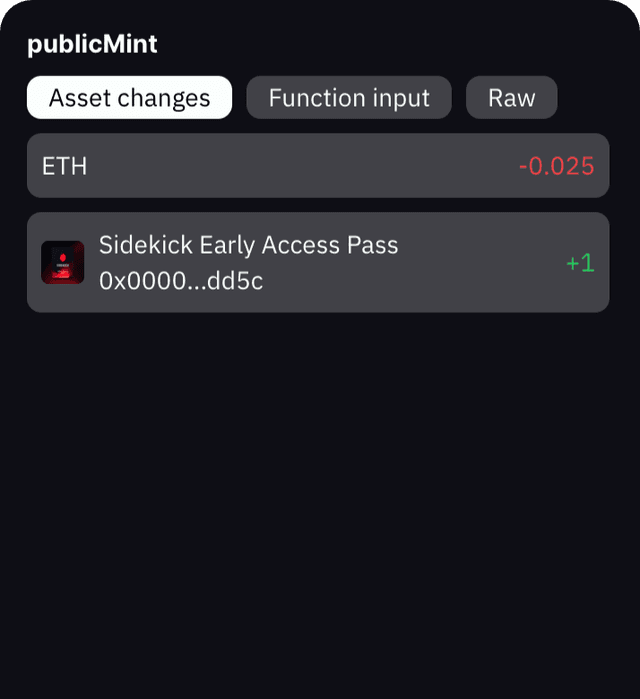 Simulate Transactions
Preview your transactions before you sign them. Sidekick gives you the knowledge you need to prevent scams.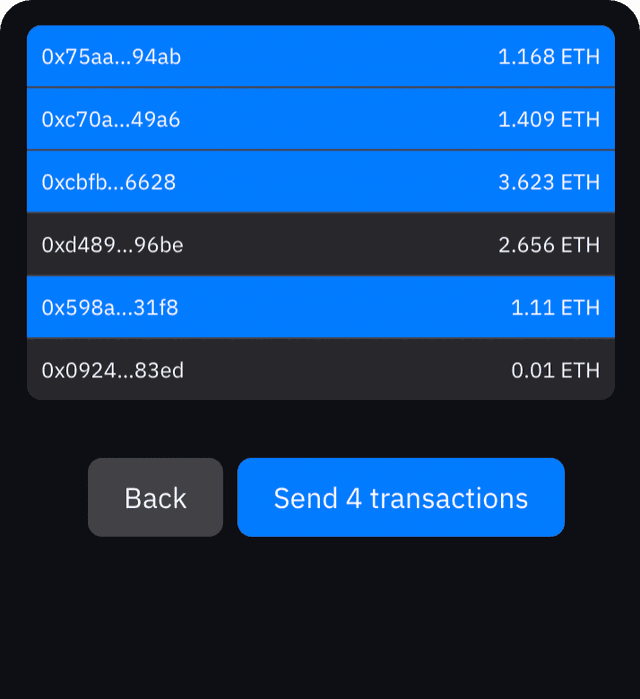 Multi-mint
Mint multiple NFTs at once, no need to switch wallets. Sidekick lets you copy your transaction at mint so there's nothing else to manage.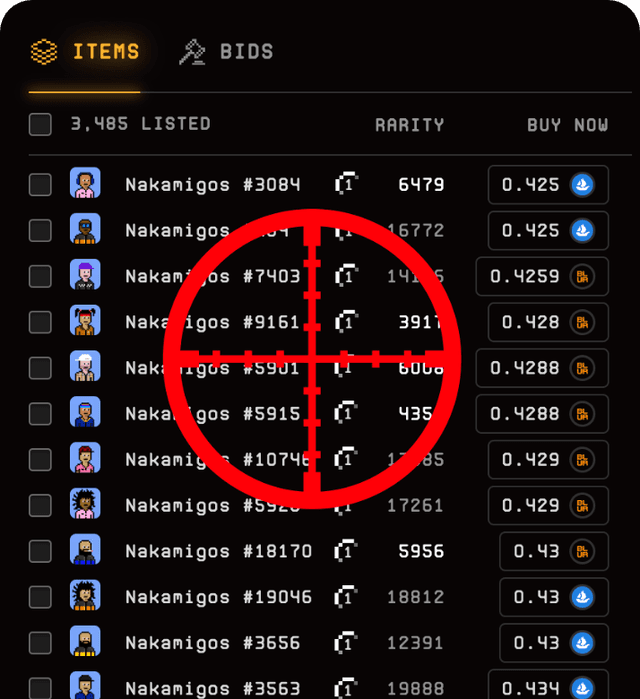 Snipe Listings
Discover the ultimate edge in NFT trading with our lightning-fast Listing Sniper. Secure your assets with an AI that speeds your transaction past the competition.
A powerhouse
With feature list growing daily
By traders, for traders.
Intelligent Gas

Speed up as many times as you want, speed up 10 transactions with one click, or let Sidekick handle it all with automated gas.

Disperse and retrieve

Send and retrieve ETH and ERC20 tokens from multiple wallets in one transaction.

Custom Built

Unlike other wallets, Sidekick will build the features you want! Early Access Users can chat with the dev team in Discord and see their own suggestions create future versions of Sidekick.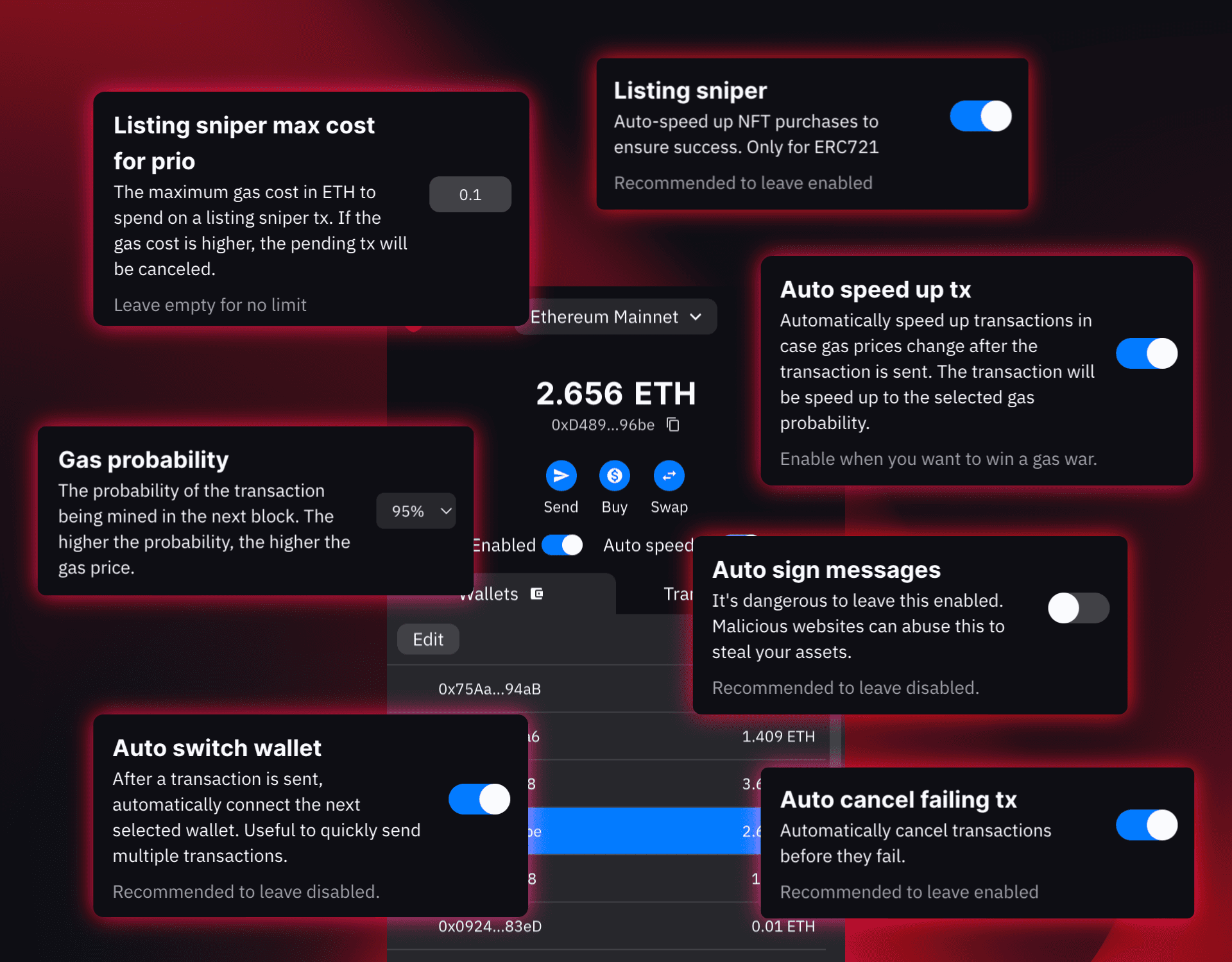 Frequently Asked Questions
Join us in
for any additional questions.
What is Sidekick Wallet?
Sidekick Wallet is a smart crypto wallet that provides advanced features to assist traders.
Is Sidekick a browser extension?
Yes! Sidekick Wallet is available in the Chrome store to users of Brave, Chrome, and Edge. We are working on support for Firefox as well as a mobile app in the future.
Is Sidekick compatible with all websites?
While we attempt to support every website, each integration is unique. If you come across one that doesn't work, reach out to us on Discord or Twitter and we'll get it working in the next update!
Can I use this with MetaMask?
Sidekick is built to replace MetaMask and other wallets for you, but until we reach our full release we've added a simple toggle to let you switch between Sidekick and your preferred wallet any time you want.
Is Sidekick free to use?
Sidekick is free to use in its entirety during early access. After our full release later this year, Sidekick's core functionality will remain free with advanced features available via an optional pro subscription.
What chains does Sidekick support?
Sidekick currently supports all of our features on Ethereum, as well as basic wallet functionality on all EVM chains.
Is Sidekick secure?
In Sidekick your private keys and seed phrase are stored under AES-256 encryption, and protected by a PBKDF2-derived password with 600k iterations. While in use, your keys are kept in encrypted memory, preventing access from external applications.
What does "early access" mean?
Early access offers users a unique opportunity to experience our software while it's still in development. As we work diligently to create a seamless and enjoyable experience, your input plays a crucial role in shaping the final product. However, please keep in mind that during this stage, you may encounter some limitations or issues, as the software is not yet fully polished. By participating in early access, you're not only getting a sneak peek at what's to come, but also helping us refine and perfect the software for a broader audience.
I have a suggestion/request.
We love those! Join our Discord and chat with us about anything you want. We'd love to build Sidekick into the wallet you love.